Library cards empower students and fuel academic success

(Waukon, IA) – September is Library Card Sign-up Month, a time when Robey Memorial Library joins the American Library Association (ALA) and libraries nationwide to remind residents, parents, caregivers and students that signing up for a library card is the first step on the path to academic achievement and lifelong learning.

There is nothing more empowering than signing up for your own library card. Through access to technology, media resources and educational programs, a library card gives students the tools to succeed in the classroom and provides people of all ages opportunities to pursue their dreams and passions.

Libraries offer everything from early literacy programs to virtual homework help and GED classes, helping transform lives and communities through education. At Robey Memorial Library, you'll find a wide variety of educational resources and activities, including online databases like Gale Resources, Credo Reference, Transparent Language, and Brainfuse JobNow.

"Libraries play a critical role in children's education and development," said Cate St. Clair, Library Director. "Robey's library programs are designed to serve people of all ages and backgrounds, from infant to senior citizen.

Robey Memorial Library, along with libraries everywhere, continue to adapt and expand services to meet the evolving needs of our community. To sign up for a library card or to learn more about the library's resources and programs, please visit www.waukon.lib.ia.us.

This year, DC's Wonder Woman is embarking on a mission to champion the power of a library card as Library Card Sign-up Month Honorary Chair. In her new role, Wonder Woman will promote the value of libraries and encourage everyone to get their very own library card.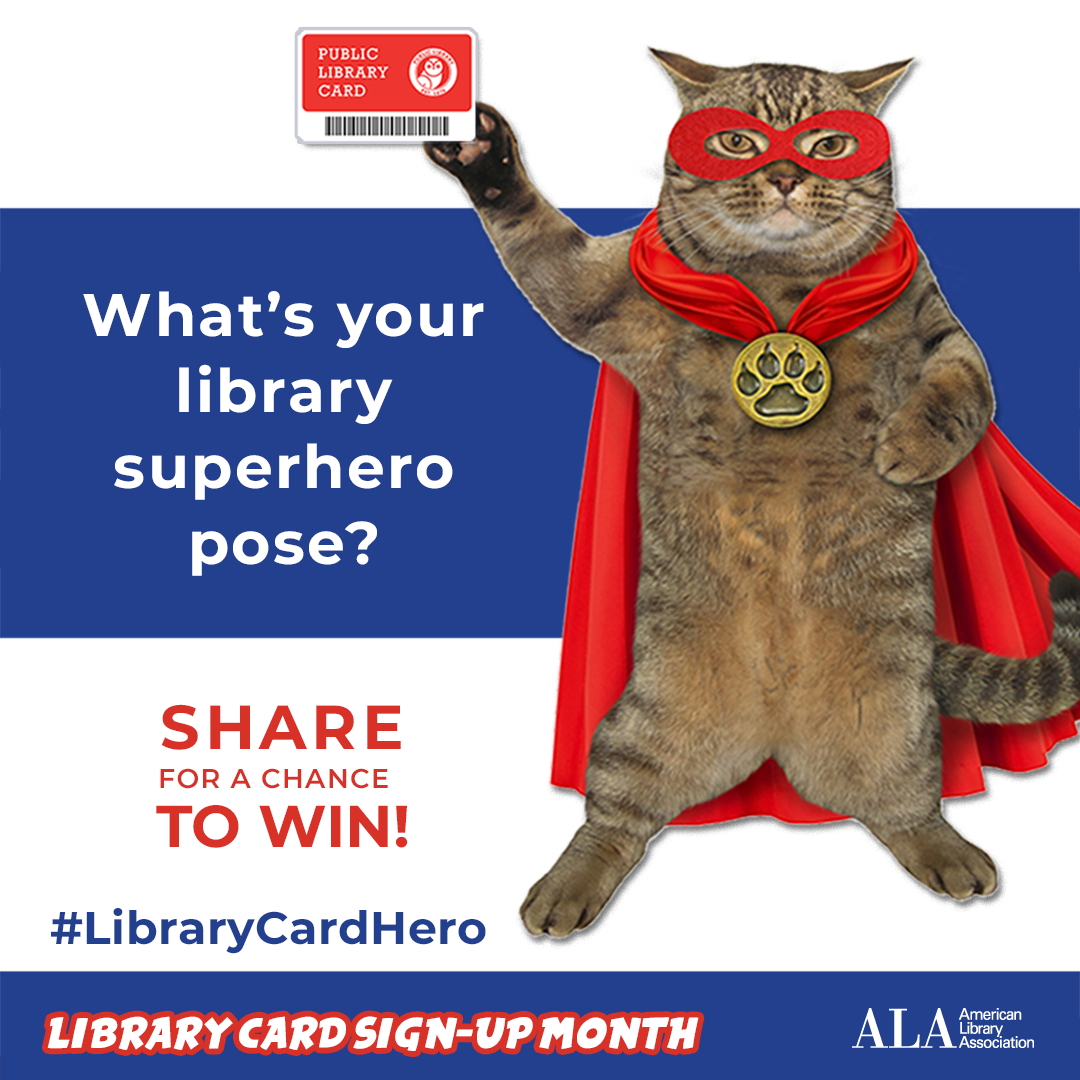 Having a library card makes you feel like a superhero with all the amazing things it gives you access to, including technology, media resources and educational programs. I Love Libraries—an initiative of the American Library Association—is promoting Library Card Sign-up Month with a contest. Show your best superhero pose for a chance to win $100. Help spread the word by striking a library superhero stance with your library card and posting it to Instagram and Twitter using the hashtag #LibraryCardHero. You'll be automatically entered to win a $100 Visa gift card. Entries can also be submitted by posting as a comment or wall post on the I Love Libraries Facebook page. Don't forget to cover up any personally identifiable information on your library card, and please tag your library!
The promotion begins Tuesday, September 1, at noon CT and ends Tuesday, September 22, at noon CT. All librarians and library lovers are encouraged to participate.
The #LibraryCardHero promotion is open to residents of the United States, Washington, D.C., and U.S. Territories. Employees of the American Library Association are not eligible to participate.
During September, be sure to stop at Robey Memorial Library to sign up for a library card or ask us what your library card can do for you!
Since 1987, Library Card Sign-up Month has been held each September to mark the beginning of the school year. During the month, the ALA and libraries unite together in a national effort to ensure every child signs up for their own library card.

Robey Memorial Library is the information center of Waukon and surrounding area community. Our mission is to support and serve individuals of all ages by striving to provide current print and nonprint information and technology resources in order to enrich lives through lifelong learning.